CDC Backs Pfizer Boosters for Those Aged 16-17
By Robin Foster HealthDay Reporter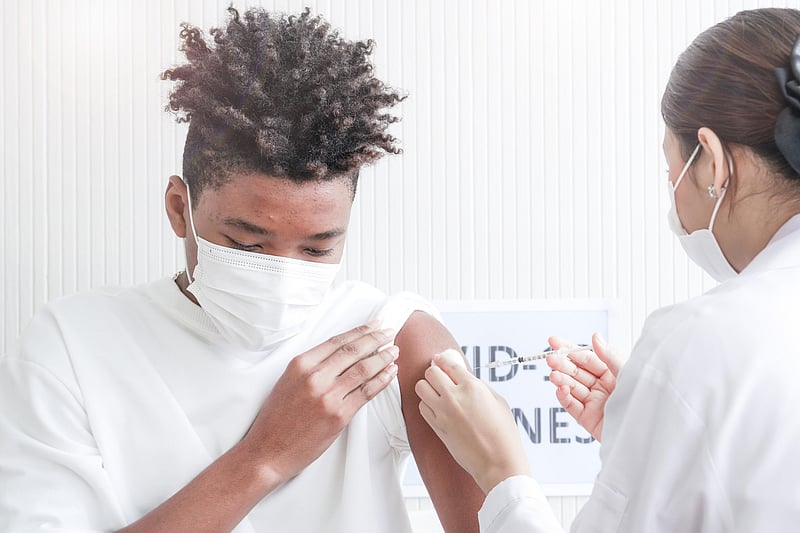 THURSDAY, Dec. 9, 2021 (HealthDay News) -- The U.S. Centers for Disease Control and Prevention on Thursday backed the emergency approval of Pfizer's booster shots for Americans aged 16 and 17.
The decision came shortly after the U.S. Food and Drug Administration authorized a third dose for that age group; boosters for those aged 18 and up were approved in November.
"Although we don't have all the answers on the Omicron variant, initial data suggests that COVID-19 boosters help broaden and strengthen the protection against Omicron and other variants," CDC Director Dr. Rochelle Walensky said in a statement. "We know that COVID-19 vaccines are safe and effective, and I strongly encourage adolescents ages 16 and 17 to get their booster if they are at least 6 months post their initial Pfizer vaccination series."
The FDA approval comes as the Delta variant is fueling surges in infections and hospitalizations in some pockets of the country and the highly contagious Omicron variant starts to spread across the United States.
"Vaccination and getting a booster when eligible, along with other preventive measures like masking and avoiding large crowds and poorly ventilated spaces, remain our most effective methods for fighting COVID-19," Acting FDA Commissioner Dr. Janet Woodcock said in an agency news release.
"As people gather indoors with family and friends for the holidays, we can't let up on all the preventive public health measures that we have been taking during the pandemic. With both the Delta and Omicron variants continuing to spread, vaccination remains the best protection against COVID-19," Woodcock added.
Dr. Peter Marks, director of the FDA's Center for Biologics Evaluation and Research, said expanding the availability of booster shots makes sense.
"The Pfizer-BioNTech COVID-19 vaccine has been available to individuals 16 years of age and older for nearly a year, and its benefits have been shown to clearly outweigh potential risks," he noted in the same agency news release. "Since we first authorized the vaccine, new evidence indicates that vaccine effectiveness against COVID-19 is waning after the second dose of the vaccine for all adults and for those in the 16- and 17-year-old age group. A single booster dose of the vaccine for those vaccinated at least six months prior will help provide continued protection against COVID-19 in this and older age groups."
Pfizer first sought the approval for using the boosters in this age group at the end of November, and it becomes the first booster shot approved for Americans this young.
Booster shots of the Pfizer and Moderna vaccines for everyone 18 and older were first authorized on Nov. 19 by U.S. health officials. All adults who'd received the single-dose Johnson & Johnson vaccine were already eligible for a booster.
The latest move to expand booster availability comes as President Joe Biden tries to keep Americans calm about Omicron. Shortly after it emerged in South Africa, he called the new variant "a cause for concern, not a cause for panic."
Echoing that concern, the CDC then strengthened its recommendations on boosters, urging all Americans aged 18 and older to get the extra dose for the best protection.
"Today, CDC is strengthening its recommendation on booster doses for individuals who are 18 years and older. Everyone ages 18 and older should get a booster shot either when they are 6 months after their initial Pfizer or Moderna series or 2 months after their initial J&J vaccine," CDC Director Dr. Rochelle Walensky said Nov. 29 in an agency statement.
As "scientists in the United States and around the world are urgently examining vaccine effectiveness related to this [Omicron] variant, I strongly encourage the 47 million adults who are not yet vaccinated to get vaccinated as soon as possible and to vaccinate the children and teens in their families as well, because strong immunity will likely prevent serious illness," Walensky added.
The Omicron variant has now spread to 21 U.S. states, as vaccine makers are still trying to determine whether their current shots will work as well against the new variant, or whether modified vaccines will be needed to fight it.
More information

Visit the U.S. Food and Drug Administration for more on COVID vaccines.
SOURCES: U.S. Food and Drug Administration, news release, Dec. 9, 2021; The New York Times
This article: Copyright © 2021 HealthDay. All rights reserved.